Case Studies
Pro-Ject Chemicals Reduces LOE 87% On 6 Mid-Continent Rod-lift Wells
Location: Elk City, Oklahoma
Formation: Douglas
Challenge
Major operator was forced to shut in wells due to marginal production rates and ineffective treatments affecting profitability. Paraffin deposition persisted down hole and at the surface, despite operator hot oiling wells twice per quarter along with surface treatments.
- Continuous chemical injection of paraffin inhibitor
- $800 per hot oil treatment, 2+ per quarter, per well
- $250 to treat and roll tank bottoms, 2+ per quarter

Pro-Ject Chemicals was given opportunity to reduce the monthly expense and improve the performance of these wells.
Solution
Pro-Ject Chemicals recommended combination product PIO4012™ to be applied via the AyreFlo™ and MicroBatch™ chemical delivery system. The chemical delivery system was used to deliver more frequent treatments to the well and improve residual consistency.
Value Delivered
- 100% Reduction in hot oiling.
- Eliminated routine tank bottom treatment prior to sale of oil.
- Monthly treatment costs on 6 wells was reduced from $5300 to $700 per month.
- Clean rods were pulled and inspected after treatment.
- Completely mitigated production upsets from intrusive treatments.
- HSE improvements by eliminating well interventions and truck traffic.
Since the successful trial, 9 subsequent AyreFlo injections have been added in this area.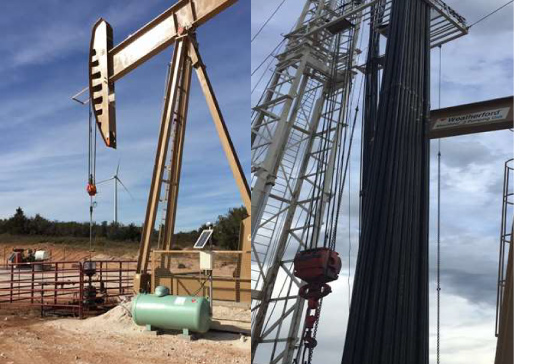 PRO-JECT CHEMICALS SAVES PERMIAN OPERATOR $437K ANNUALLY ON JUST 16 WELLS
Challenge
Pro-Ject Chemicals was approached by a large independent operator in the Permian Basin to trial the Ayreflo System along with our chemicals and services on 16 of their most problematic wells in one of their fields. Background information was provided to Pro-Ject before the trial began detailing failure frequency, cause of failure, and hot oiling schedule and costs.

The 12 month average failure rate for these wells was 1.375 failures per year the month before Pro-Ject began treatment. Each well was hot oiled before the trial began to ensure the wells were clean before the new chemical program was started. The hot oil company was instructed to no longer hot oil these wells until further notice. Within the first few months there was a notable difference when pulling the wells. Hot oiling was no longer needed prior to the pull and the rods and tubing were very clean with a visible corrosion inhibitor film present. After 8 months the 12 month average failure rate had dropped to 0.625 (55% Reduction).

Three months later Pro-Ject was awarded the entire field. We continued to track the trial wells to determine the long term impact of the program. After almost three years of treatment, the 12 month average failure rate had dropped to 0.313 (77% Reduction). The hot oiling program has been eliminated altogether.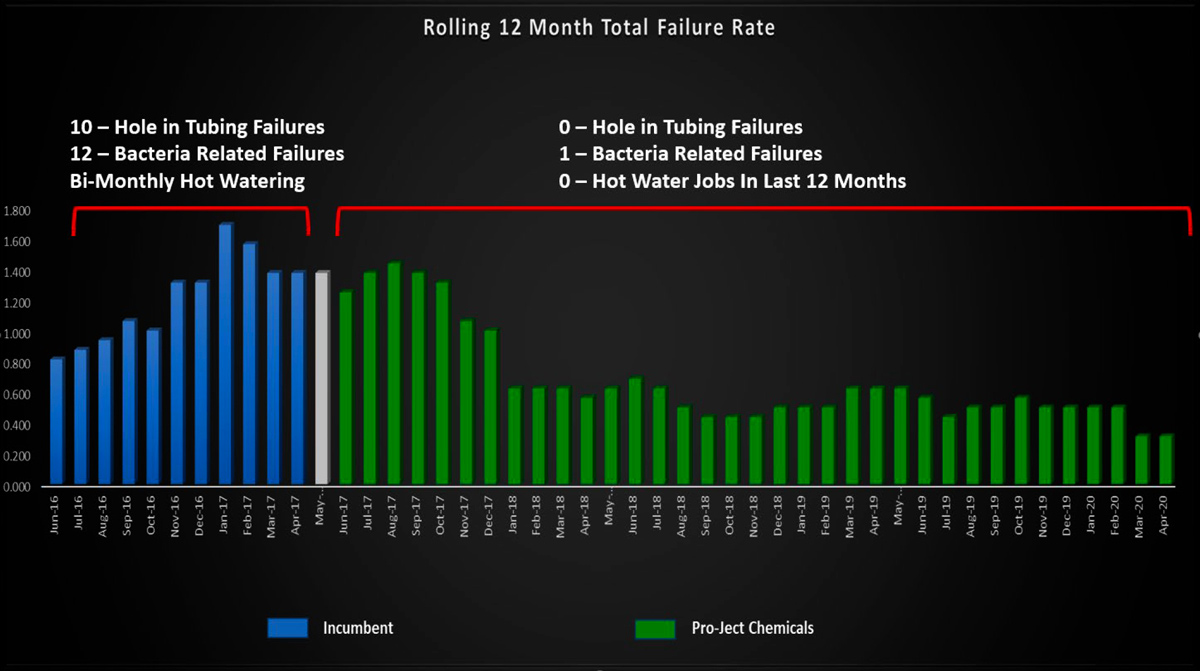 AYREFLO SYSTEM ELIMINATES EMULSION AND WAX PROBLEMS FOR MAJOR OPERATOR IN THE DELAWARE BASIN
The Issue:
Pro-Ject Chemicals was contacted by a large producer in the Delaware basin to provide recommendations to improve water and oil separation as well as wax build up on a rod lift well. The existing chemical program was failing – delivering poor quality produced fluids treatment. Continual bad oil and wax buildup in the tubing and in the storage tanks led to rejected loads that required hot water remediation
The Solution:
- Ayre-Flo chemical injection system with patented integrated flush was
- The system used flowing agitation to enable the demulsification process without exacerbating the emulsion formation.
- Injection started at the wellhead with precise injection concentration.
- Paraffin inhibitor was co-injected to address paraffin problems.
The Result
- Eradication of hot water and treater trucks
- Clean flowing wells
- BS&W reduction at the tank battery from 2% to 0.1% with zero residual emulsion
- No bad oil tanks since treatment with the Ayre-Flo was initiated.